Online collections
hobbycollections.info
All collections » Coins » US Quarter 1999 Connecticut State
US Quarter 1999 Connecticut State
Currency - Dollar=100 cents
Face value: Quarter dollar ($1/4=25 cents)
Type - commemorative coin 50 States Quarters Series

Composition - copper-nickel clad copper
Diameter - 24.3 mm
Weight - 5.67 grams
Edge: Reeded

Mint Mark: D (Denver), P (Philadelphia)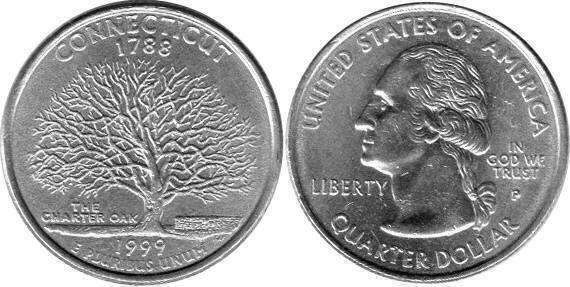 Years of mintage:
1999

Reverse:
The Charter Oak Tree
Legend:
CONNECTICUT 1788 / THE CHARTER OAK / 1999 E PLURIBUS UNUM

Obverse:
Washington facing left
Legend:
QUARTER DOLLAR / UNITED STATES OF AMERICA / LIBERTY / IN GOD WE TRUST


Krause catalog number - KM#297



Coin value in condition:
UNC (Uncirculated - without traces of circulation) - ~1 USD.00
XF (Extremely Fine) - 0.25-0.50
Worse than "XF" - 0.25 USD
CONNECTICUT #5
Capital: Hartfort
Adhered to: January 9, 1788
Population: 3,460,503 hab.
Origin of the name: Word of Indian origin "quinnitukqut" which means "The long side of the river"
Reverse appears the figure of a century-old oak "THE CHARTER OAK" "El Roble Fundador".

1788 also appears, the date on which the State became part of La Unión.
In 1614, the Dutch explorer Adrian Block described a hundred-year-old tree in his diary, on a trip through the Connetica region, where its capital, Hartfort, is located today, so it is believed that this could be it.
In 1630 the first settler to settle in these lands, Samuel Wyllys, received a delegation of local Indians to ask him not to uproot this symbolic oak tree, since it had served for years as a place for ceremonies and nature worship, at the same time which signified peace among the native inhabitants.
The "founder oak" has a local legend that says that one of its interior cavities was used at the end of 1687 to hide the founding document of the colony, which granted it full autonomy from the British crown and was signed by the King of England George II.
Upon his death and while Jaime II was on the throne, the sovereignty of the colonies was once again claimed by the crown, and the monarch demanded that the founding document of this colony be delivered to him in order to destroy it, and for this he ordered to his troops.

The inhabitants of the colony ran to hide it in the tree and thus preserved it.
169 years later, in 1856, a storm destroyed the "founding tree". Relics and even furniture were made from its remains, including a chair.
From the seeds of this tree other oaks (sons) were born in the same place that are preserved today.
KM#(D):297KM#(S):297a
The charter oak depicted in painting
Chair made from its branches when the tree was destroyed in 1856 due to a strong storm.
The frieze of the Hartford Capitol continues to recall the symbolic tree of the State.