Online collections
hobbycollections.info
All collections » Coins » US Quarter 1999 New Jersey State
US Quarter 1999 New Jersey State
Currency - Dollar=100 cents
Face value: Quarter dollar ($1/4=25 cents)
Type - commemorative coin 50 States Quarters Series

Composition - copper-nickel clad copper
Diameter - 24.3 mm
Weight - 5.67 grams
Edge: Reeded

Mint Mark: D (Denver), P (Philadelphia)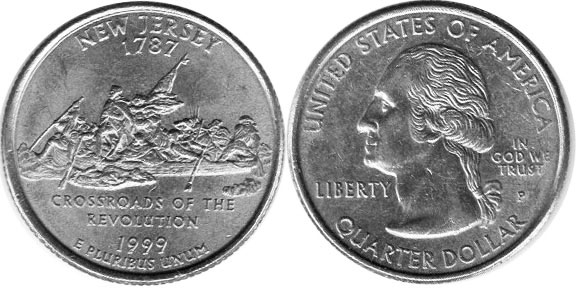 Years of mintage:
1999

Reverse:
Washington Crossing the Delaware - George Washington standing and James Monroe holding the flag
Legend:
NEW JERCEY 1787 / CROSSROADS OF THE REVOLUTION / 1999 E PLURIBUS UNUM

Obverse:
Washington facing left
Legend:
QUARTER DOLLAR / UNITED STATES OF AMERICA / LIBERTY / IN GOD WE TRUST


Krause catalog number - KM#295



Coin value in condition:
UNC (Uncirculated - without traces of circulation) - ~1 USD.00
XF (Extremely Fine) - 0.25-0.50
Worse than "XF" - 0.25 USD



GEORGIANEW JERSEY
Capital: Trenton
Adhered: DECEMBER 18, 1787
Population: 8,590,300 inhabitants.
Origin of the name: Named after the Island of Jersey, in England.
The relief and the legend "CROSSROADS OF THE REVOLUTION" commemorate the passage of the Delaware River through Washington on December 25, 1776. The design is based on an 1851 painting by the painter Emmanuel Leutze that is on display at the Metropolitan Museum in New York .

The date of accession of the State to the Union also appears.
The American General George Washington (1732-1799) crossed the Delaware River at dawn on December 25, 1776, accompanied by a small army of 2,400 men who intended to surprise a garrison of 1,000 German allies of the British who were in Trenton, New Jersey.
In this period the morale of the Americans was quite low due to the defeats suffered against the British enemy.

The occupation troops had controlled the city of New York and the central region of New Jersey, they were in an excellent position to attack the nation's capital, Philadelphia, which had already evacuated a large part of its citizens and the recently launched American Congress. he had had to go into exile from the city for fear of British repression.
It was a successful battle that will be remembered
KM#(D):295KM#(S):295a
Painting by Emmanuel Leutze.

MMNY
declaration of independence
in the annals of American history, as it reactivated the morale of the troops and helped in the defense of the capital.
George Washington served in the British army years before as an officer, in the war against the French-Canadians, since it helped him to be appointed as Commander-in-Chief of the newly created Continental Army in the War of Independence, to fight against the army of Her Majesty the Queen of England.
He helped draft the most important document in American history, the Treaty of Independence (1783), he participated in the union of the 13 colonies and at the end of his life he became the first President of the United States of America (1789-1797). .
Battle of Trenton.
Note:
It is the only North American coin in which the same character appears on the obverse and reverse.