Online collections
hobbycollections.info
All collections » Coins » US Quarter 1999 Pennsylvania State
US Quarter 1999 Pennsylvania State
Currency - Dollar=100 cents
Face value: Quarter dollar ($1/4=25 cents)
Type - commemorative coin 50 States Quarters Series

Composition - copper-nickel clad copper
Diameter - 24.3 mm
Weight - 5.67 grams
Edge: Reeded

Mint Mark: D (Denver), P (Philadelphia)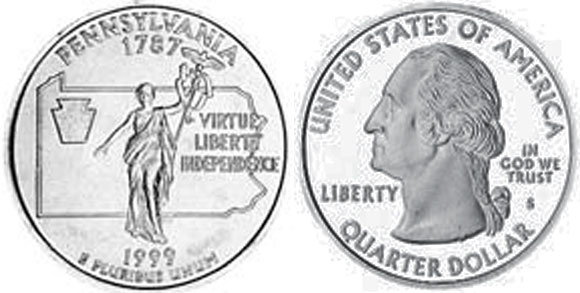 Years of mintage:
1999

Reverse:
Commonwealth statue, state outline, keystone
Legend:
PENSYLVANIA 1787 / VIRTUE LIBERTY INDEPENDENCE / 1999 E PLURIBUS UNUM

Obverse:
Washington facing left
Legend:
QUARTER DOLLAR / UNITED STATES OF AMERICA / LIBERTY / IN GOD WE TRUST


Krause catalog number - KM#294



Coin value in condition:
UNC (Uncirculated - without traces of circulation) - ~1 USD.00
XF (Extremely Fine) - 0.25-0.50
Worse than "XF" - 0.25 USD
PENNSYLVANIA #2
Capital: Harrisburg
Adhered: DECEMBER 12, 1787 Population: 12,335,091 hab.
Origin of the name: Named in honor of Admiral William Penn, in 1681. Sylvana means populated forest, in honor of the immense forest masses of the region.
The reverse represents the statue "Commonwealth", the motto of the State appears in the legends of "Virtue, Liberty and Independence", behind the contour of the State of Pennsylvania and to the left a "keystone" or angular figure.

Up date of adhesion to La Unión.
KM#(D):294KM#(S):294a
It is known as "Miss Penn", it was sculpted by Roland Hinton Perry, it is made of gilt bronze, a female form that tops the vault of the Pennsylvania State Capitol in Harrisburg since May 25, 1905. It is located on a sphere that represents the world, her right arm is extended in a kind gesture and her left arm grasps a rod with a ribbon to symbolize justice.
The Keystone or angular figure is represented in honor of the nickname of the State "Keystone State" "The Key State" for its strategic, economic, political and social value in the current United States.
The Angular Figure in the State Shield