Online collections
hobbycollections.info
All collections » Coins » US Quarter 2000 Massachusetts State
US Quarter 2000 Massachusetts State
Currency - Dollar=100 cents
Face value: Quarter dollar ($1/4=25 cents)
Type - commemorative coin 50 States Quarters Series

Composition - copper-nickel clad copper
Diameter - 24.3 mm
Weight - 5.67 grams
Edge: Reeded

Mint Mark: D (Denver), P (Philadelphia)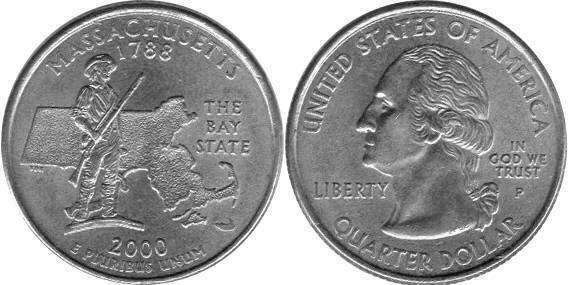 Years of mintage:
2000

Reverse:
The Minute Man statue, state outline
Legend:
MASSACHUSETTS 1788 / THE BAY STATE / 2000 E PLURIBUS UNUM

Obverse:
Washington facing left
Legend:
QUARTER DOLLAR / UNITED STATES OF AMERICA / LIBERTY / IN GOD WE TRUST


Krause catalog number - KM#305



Coin value in condition:
UNC (Uncirculated - without traces of circulation) - ~1 USD.00
XF (Extremely Fine) - 0.25-0.50
Worse than "XF" - 0.25 USD
MASSACHUSETTS #6
Capital: Boston.
Adhered to: February 6, 1788
Population: 6,427,801 inhabitants.
Origin of the name: It comes from the Algonquian Indian people, "Massachuset" and means "Near the great hill".
Reverse depicts "Minuteman", a statue found in "The Minuteman National Historical Park" Concor, Massachusetts.

The legend of "THE BAY STATE", "The State of the Bay" for the great bay that forms its coast, the contour of the State and the date of adhesion to La Unión.
KM#(D):305KM#(S):305a
In 1645, a group of men who were trained for the immediate defense of the colony was formed in the Massachusetts Colony. "The Minuteman" is the term known in the United States to call farmers and colonists, who were trained to go to fight at the right time, hence the term "Minute Man", just by hearing the alarm, they were already prepared to go defend their interests.
These units continued to receive training in times of peace in many cities of the colonies, normally they met 4 times a year.

The officers were chosen by popular vote and the troops were made up of people from the colony, with a minimum age of 25 years.
They did not follow the pattern of a European army, they were rather undisciplined militiamen who took advantage of their knowledge of the wild territories where they lived and their skill with firearms to face the British troops who were unaware of this form of fighting.
These rapid action groups played a very important role in the War of Independence.
They have been immortalized in a multitude of statues and paintings that are scattered throughout the country, since they represent for the Americans the spirit of struggle and sacrifice for freedom.
Concord, MA minuteman statue.
This sculpture depicts John Parker, a Lexington minuteman.