Online collections
hobbycollections.info
All collections » Coins » US Quarter 2000 Virginia State
US Quarter 2000 Virginia State
Currency - Dollar=100 cents
Face value: Quarter dollar ($1/4=25 cents)
Type - commemorative coin 50 States Quarters Series

Composition - copper-nickel clad copper
Diameter - 24.3 mm
Weight - 5.67 grams
Edge: Reeded

Mint Mark: D (Denver), P (Philadelphia)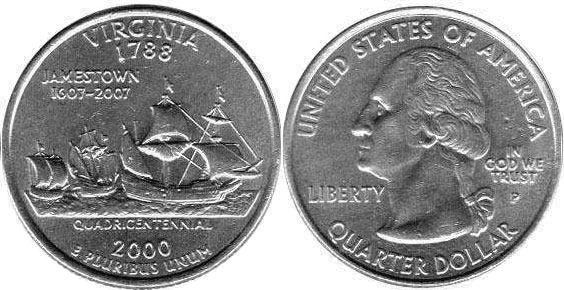 Years of mintage:
2000

Reverse:
Ships Susan Constant, Godspeed, Discovery
Legend:
VIRGINIA 1788 / JAMESTOWN 1607-2007 / QUADRECENTINIAL / 2000 E PLURIBUS UNUM

Obverse:
Washington facing left
Legend:
QUARTER DOLLAR / UNITED STATES OF AMERICA / LIBERTY / IN GOD WE TRUST


Krause catalog number - KM#309



Coin value in condition:
UNC (Uncirculated - without traces of circulation) - ~1 USD.00
XF (Extremely Fine) - 0.25-0.50
Worse than "XF" - 0.25 USD
VIRGINIA #10
Capital: Richmond.
Adhered to: June 25, 1788.
Population: 7,203,542 hab.
Origin of the name: Named by Sir Walter Raleig in honor of Queen Elizabeth I, "Virgin Queen of England".
Reverse Shows the ships "Susan Constant", "Godspeed" and "Discovery", the legend of "Jamestown 1607-2007" and "Quadricentennial", above the date of accession to The Union.
KM#(D):309KM#(S):309a
This territory had been explored by Sir Walter Raleig, who in 1584 and commanded by Queen Elizabeth I of England organized an expedition to form colonies on behalf of England and thus fight its main enemy, Spain, in the New World.
This design commemorates the 400 years old of Jamestown, England's first permanent colony in America, hence the legend "Quadracentennial".
The 3 ships that appear were the first ships to bring settlers to these lands.
On April 10, 1606, King James I of England decided to send a colonizing expedition to the New World.

This expedition was made up of 3 ships that left London on December 20, 1606, on May 12, 1607, and after suffering many hardships on the high seas, arrived at a small island in the James River, 60 miles above the Chesapeake Bay.
This was the original site of the colony, made up of 104 men and boys and named Jamestown in honor of the English King.
Replicas of the 3 ships that arrived at Jamestown.
Sir Walter Raleig, founder of Virginia
James I of England.