Online collections
hobbycollections.info
All collections » Coins » US Quarter 2001 Kentucky State
US Quarter 2001 Kentucky State
Currency - Dollar=100 cents
Face value: Quarter dollar ($1/4=25 cents)
Type - commemorative coin 50 States Quarters Series

Composition - copper-nickel clad copper
Diameter - 24.3 mm
Weight - 5.67 grams
Edge: Reeded

Mint Mark: D (Denver), P (Philadelphia)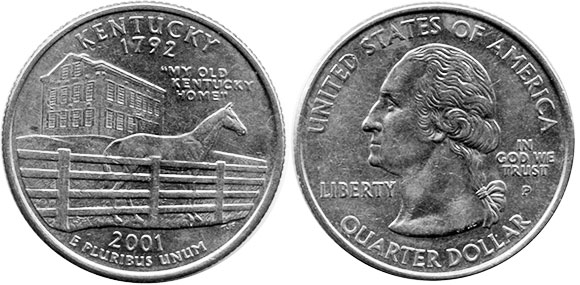 Years of mintage:
2001

Reverse:
Thoroughbred racehorse behind fence, Bardstown mansion, Federal Hill
Legend:
KENTUCKY 1792 / MY OLD KENTUCKY HOME / 2001 E PLURIBUS UNUM

Obverse:
Washington facing left
Legend:
QUARTER DOLLAR / UNITED STATES OF AMERICA / LIBERTY / IN GOD WE TRUST


Krause catalog number - KM#322



Coin value in condition:
UNC (Uncirculated - without traces of circulation) - ~1 USD.00
XF (Extremely Fine) - 0.25-0.50
Worse than "XF" - 0.25 USD
KENTUCKY #15
Capital: Frankfort.
Adhered to: June 1, 1792.
Population: 4,092,891 hab.
Origin of the name: Its origin comes from the Iroquian Indian words "KAN-TAH-TEN" which means "The Land of Tomorrow".
Reverse Shows the "Federal Hill" mansion on a hill, with the legends "MY OLD KENTUCKY HOME". In the foreground is a thoroughbred horse behind a fence. Above is the accession date of the State to the Union.
KM#(D):322KM#(S):322a
"The Federal Hill" is an old Georgian-style mansion located in the city of Bardstwon, Kentucky, it is famous because it is believed that Stephen Foster was inspired there to create the well-known ballad "My Old Kentucky Home", anthem of the State from the beginning of the 20th century, although there are those who believe that this song was plagiarized from the black slaves who sang it on the farm's cotton plantations.
The State is also famous for horse racing, the Kentucky Derby is known as the longest horse race in the country.

Kentucky, since the beginning of the 18th century, has been the largest thoroughbred horse breeding and racing center in the country, there they breed a thoroughbred breed that is highly appreciated in the world of racing worldwide, due to the special characteristics that the horse has. grass in the area.
This is one of the reasons why the figure of a thoroughbred appears on the reverse of the coin.
Federal Hill
Stephen Foster
kentucky derby