Online collections
hobbycollections.info
All collections » Coins » US Quarter 2001 New York State
US Quarter 2001 New York State
Currency - Dollar=100 cents
Face value: Quarter dollar ($1/4=25 cents)
Type - commemorative coin 50 States Quarters Series

Composition - copper-nickel clad copper
Diameter - 24.3 mm
Weight - 5.67 grams
Edge: Reeded

Mint Mark: D (Denver), P (Philadelphia)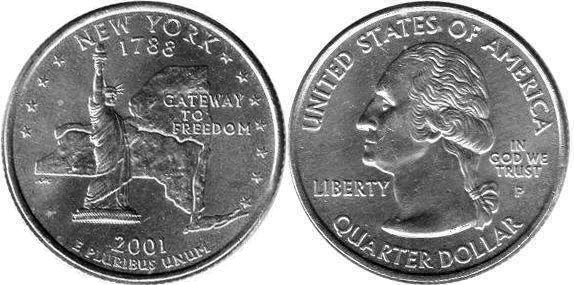 Years of mintage:
2001

Reverse:
Statue of Liberty, 11 stars, state outline with line tracing Hudson River and Erie Canal
Legend:
NEW YORK 1788 / GATEWAY TO FREEDOM / 2001 E PLURIBUS UNUM

Obverse:
Washington facing left
Legend:
QUARTER DOLLAR / UNITED STATES OF AMERICA / LIBERTY / IN GOD WE TRUST


Krause catalog number - KM#318



Coin value in condition:
UNC (Uncirculated - without traces of circulation) - ~1 USD.00
XF (Extremely Fine) - 0.25-0.50
Worse than "XF" - 0.25 USD
NEW YORK #12
Capital: Albany.
Adhered: July 26, 1788. Population: 19,157,532 inhabitants.

Origin of the name: Named after the Duke of York after the Dutch surrendered the region to the English Crown.
The reverse shows the famous Statue of Liberty, the relief of the state crossed by the Hudson River and the Erie Canal, the legend of "GATEWAY TO FREEDON" "The door to Freedom" and the eleven stars that symbolize their order of entry into The Union.

Up the date of adhesion to The Union.
KM#(D):318KM#(S):318a

The "Liberty Enlightening World", better known as "The Statue of Liberty" was a sign of friendship from France to the US in 1885, commemorating the century of life of the young nation.

It is located on Liberty Island in New York Harbor and has welcomed millions of immigrants from Europe in the last century.

It was created by the sculptor Frederic Auguste Bartholdi, Gustave Eiffel was in charge of designing its interior, it is inspired by the design of the Colossus of Rhodes and "Il Sancarlone".

It is currently one of the most representative symbols of the US outside its borders, it symbolizes Freedom from oppression.

In the book that he holds with his left hand, he shows the legends "JULY IV MDCCLXXVI" that is to say July 4, 1776, the day of the Declaration of Independence, in his right hand, extended, he carries a torch.

The seven peaks in her crown represent the 7 seas and the 7 continents.

The height from the ground to the torch is 93 meters including the pedestal, the height of the statue is 46 meters.

The relief representation of the Hudson River and the Erie Canal symbolize the life and progress of these elements for the State.

"The gateway to freedom" "La Puerta hacia la Libertad" is in tune with what the statue represents, Liberty and the democracy of the American people.
the erie canal
the hudson river