Online collections
hobbycollections.info
All collections » Coins » US Quarter 2001 Vermont State
US Quarter 2001 Vermont State
Currency - Dollar=100 cents
Face value: Quarter dollar ($1/4=25 cents)
Type - commemorative coin 50 States Quarters Series

Composition - copper-nickel clad copper
Diameter - 24.3 mm
Weight - 5.67 grams
Edge: Reeded

Mint Mark: D (Denver), P (Philadelphia)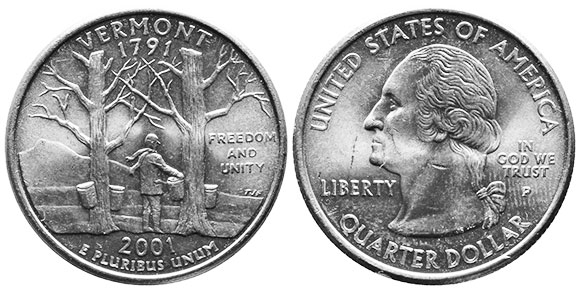 Years of mintage:
2001

Reverse:
Maple trees with sap buckets, Camel's Hump Mountain
Legend:
VERMONTH 1791 / FREEDOM AND UNITY / 2001 E PLURIBUS UNUM

Obverse:
Washington facing left
Legend:
QUARTER DOLLAR / UNITED STATES OF AMERICA / LIBERTY / IN GOD WE TRUST


Krause catalog number - KM#321



Coin value in condition:
UNC (Uncirculated - without traces of circulation) - ~1 USD.00
XF (Extremely Fine) - 0.25-0.50
Worse than "XF" - 0.25 USD
VERMONT #14
Capital: Montpellier.
Adhered to: March 4, 1791.
Population: 616,592 hab.
Origin of the name: Derived from the French "Verts" and "Mont" Green mountains.
The reverse shows in the background the mountains known as "Camel's Hump" "The Camel's Hump", in the foreground are maple trees from which an artisan collects the sap in buckets to make sugar and syrup. Above is the date of entry of the State into La Union The legend "FREEDOM AND UNITY" also appears. "Freedom and Unity", motto of the State.
The State of Vermont was the first colony not belonging to the "Thirteen Colonies" to be admitted to The Union.
Until sugar cane was introduced in the 1800s, maple sap was used as a sweetener component for consumption, almost all production coming from Vermont.
The sugar comes from the sap of this tree, which is treated in large ovens to make a multitude of sugary compounds and preparations, in addition to the aforementioned sugar.

Currently, this State is famous in the country for the large-scale production of sugar, maple syrup and a sweet made from its leaves, which is why it has been used as a representative design of the State.
"Camel's Hump Mountain" is the third highest mountain in the State, belongs to the "Green Mountain" mountain system and is considered one of the oldest mountains on earth.
The "Green Mountains" are considered a symbol that enjoys much sympathy among the inhabitants of Vermont.
Collection of the sap of the maple.
Maple Leafs.
"FREEDOM AND UNITY" is the motto used in official institutions and buildings, it is in line with the idea of ​​freedom and patriotism that this country enjoys since the Declaration of Independence.
"The Camel's Hump" Green Mountain.