Online collections
hobbycollections.info
All collections » Coins » US Quarter 2002 Mississippi State
US Quarter 2002 Mississippi State
Currency - Dollar=100 cents
Face value: Quarter dollar ($1/4=25 cents)
Type - commemorative coin 50 States Quarters Series

Composition - copper-nickel clad copper
Diameter - 24.3 mm
Weight - 5.67 grams
Edge: Reeded

Mint Mark: D (Denver), P (Philadelphia)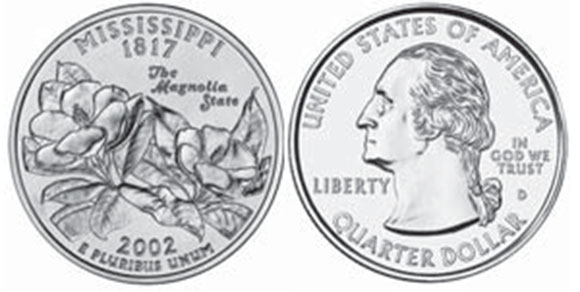 Years of mintage:
2002

Reverse:
Two magnolia blossoms
Legend:
MISSISSIPPI 1817 / THE MAGNOLIA STATE / 2002 E PLURIBUS UNUM

Obverse:
Washington facing left
Legend:
QUARTER DOLLAR / UNITED STATES OF AMERICA / LIBERTY / IN GOD WE TRUST


Krause catalog number - KM#335



Coin value in condition:
UNC (Uncirculated - without traces of circulation) - ~1 USD.00
XF (Extremely Fine) - 0.25-0.50
Worse than "XF" - 0.25 USD
M
ISSISSIPPI #20

Capital: Jackson.
Adhered to: December 10, 1817.
Population: 2,871,000 inhabitants.
Origin of the name: It is named after the great Mississippi River, which flows through the State.
The reverse shows 2 magnolias, the state flower, and the legend "THE MAGNOLIA STATE", "El Estado de la Magnolia", the nickname given to this territory.

Up date of adhesion to La Unión.
The design of this reverse is dedicated in body and soul to the flower of the state tree, The Magnolia.
There are many species of this tree and its flower around the world, here the southern magnolia or Grandiflora, native to the southern United States, is represented.
It was discovered by the French botanist Pierre Magnol in the 18th century, it is characterized by having very large white flowers.
In the year 1900, after carrying out surveys in the State children's schools to choose the representative plant, the magnolia was chosen over the yellow jasmine and the cotton, this vote was not official and it was necessary to wait until 1935, when it was carried out. another similar vote to choose the characteristic tree of the State, and the magnolia flower emerged victorious again, in 1938 this vote was made official but it did not become representative of the State.

It was necessary to wait again until February 26, 1952 when it was officially adopted as a representative plant of Mississippi.
southern magnolia
mississippi
THE MAGNOLIA STATE -
Explored.. I54Od, by De Soto.

Colonized first by French, 1699. Report a colony of British.

1763: Spanisb.

1779. Territory organized by US., 1798. Became 20th.

Estate, 1817
Detail of the State posters.