Online collections
hobbycollections.info
All collections » Coins » US Quarter 2002 Tennessee State
US Quarter 2002 Tennessee State
Currency - Dollar=100 cents
Face value: Quarter dollar ($1/4=25 cents)
Type - commemorative coin 50 States Quarters Series

Composition - copper-nickel clad copper
Diameter - 24.3 mm
Weight - 5.67 grams
Edge: Reeded

Mint Mark: D (Denver), P (Philadelphia)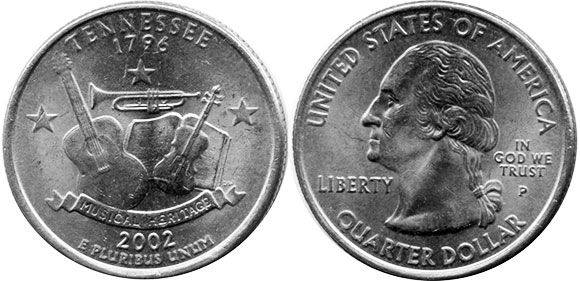 Years of mintage:
2002

Reverse:
Fiddle, trumpet, guitar, musical score, three stars
Legend:
TENNESSEE 1796 / MUSICAL HERITAGE / 2002 E PLURIBUS UNUM

Obverse:
Washington facing left
Legend:
QUARTER DOLLAR / UNITED STATES OF AMERICA / LIBERTY / IN GOD WE TRUST


Krause catalog number - KM#331



Coin value in condition:
UNC (Uncirculated - without traces of circulation) - ~1 USD.00
XF (Extremely Fine) - 0.25-0.50
Worse than "XF" - 0.25 USD
TENNESSEE #16
Capital: Nashville.
Adhered: June 1, 1796. Population: 5,797,289 hab.
Origin of the name: Originally from the Indian words of the YUchi tribe "tana-see", which means "The meeting place".
Reverse commemorates the musical heritage of the State "MUSICAL HERITAGE". There are 3 stars that signify the 3 regions of Tennessee and the characteristic musical instrument of each of them, above the date of adhesion of the State to The Union.
The violin represents the East Tennessee region, Appalachian music (Celtic music originating in Scotland that was imported by immigrants and settled in much of the central United States), the trumpet alludes to Blues, from the Western region and finally the guitar that represents the central part of the State, with its capital Nashville as an icon of Country music in the country, is known as "Music City USA".
Country or "hillbilly" music was born in 1920 shortly after radio and records made it possible for local performers of popular music ("folk" music) to hear what their contemporaries were creating in other parts of the United States. .

Country music was originally based on Scotch-Irish tunes and ballads that were popular at barn dances in many rural states.

It quickly became the most popular music among millions of farmers and factory workers in cities across the country.
The city of Memphis is known worldwide for the great artists of all genres who have presented their works from this emblematic city.
KM#(D):331 KM#(S):331a