Online collections
hobbycollections.info
All collections » Coins » US Quarter 2003 Illinois State
US Quarter 2003 Illinois State
Currency - Dollar=100 cents
Face value: Quarter dollar ($1/4=25 cents)
Type - commemorative coin 50 States Quarters Series

Composition - copper-nickel clad copper
Diameter - 24.3 mm
Weight - 5.67 grams
Edge: Reeded

Mint Mark: D (Denver), P (Philadelphia)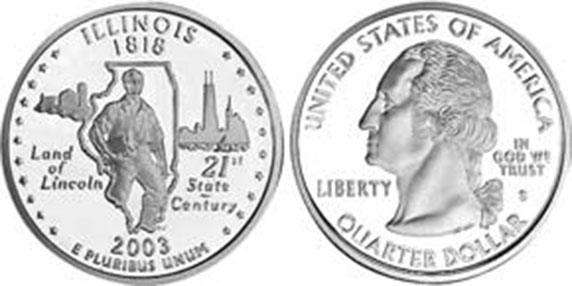 Years of mintage:
2003

Reverse:
Abraham Lincoln - farm scene, Chicago skyline, state outline, 21 stars
Legend:
ILLINOIS 1818 / LAND OF LINCOLN / 21st STATE CENTURY / 2003 E PLURIBUS UNUM

Obverse:
Washington facing left
Legend:
QUARTER DOLLAR / UNITED STATES OF AMERICA / LIBERTY / IN GOD WE TRUST


Krause catalog number - KM#343



Coin value in condition:
UNC (Uncirculated - without traces of circulation) - ~1 USD.00
XF (Extremely Fine) - 0.25-0.50
Worse than "XF" - 0.25 USD
ILLINOIS #21
Capital: Springfield.
Adhered to: December 3, 1818.
Population: 12,484,000 inhabitants.
Origin of the name: In honor of its ancient inhabitants, the Illini Indian tribe, which disappeared for unknown reasons around 1400-1500 AD.
Obverse depicts Abraham Lincoln in his youth, background the outline of the State, the silhouette of the city of Chicago and a farm and the legends "LAND OF LINCOLN" and "21st STATE/CENTURY" "Land of Lincoln" and " "21 State/Centennial".

On the sides 21 stars.

Up date of adhesion to La Unión.
The State of Illinois or "The Prairie State" "The Prairie State", as it is nicknamed in the country for its large green expanses, pays homage in this design to the figure of Abraham Lincoln, sixteenth president of the USA ( 1861-1865).

He was born on February 12, 1809 in Hardin County, Kentucky, soon moving to Illinois where he studied law and became one of the most famous attorneys in the state.

There he was elected by the Republican party as a candidate for the US presidency and his political career began.
He was one of the best-known leaders during the American Civil War, he led the Yankees and was respected and applauded for his diplomatic efforts to put an end to the fratricidal war that the country was facing and for his efforts to unite and rebuild after the war.

He is known as the architect of the suppression of slavery in the country.
He was assassinated on April 15, 1865 by John Wilkes Booth and this made him a martyr and a reference for American nationalism.
KM#(D):343KM#(S):343a
Abraham Lincoln.
Chicago city.
The great prairies of Illinois.