Online collections
hobbycollections.info
All collections » Coins » US Quarter 2004 Michigan State
US Quarter 2004 Michigan State
Currency - Dollar=100 cents
Face value: Quarter dollar ($1/4=25 cents)
Type - commemorative coin 50 States Quarters Series

Composition - copper-nickel clad copper
Diameter - 24.3 mm
Weight - 5.67 grams
Edge: Reeded

Mint Mark: D (Denver), P (Philadelphia)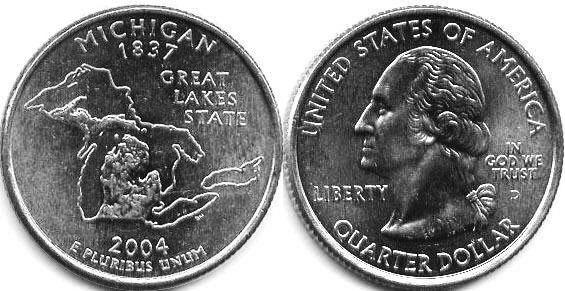 Years of mintage:
2004

Reverse:
State outline, outline of Great Lakes system
Legend:
MICHIGAN 1837 / GREAT LAKES STATE / 2004 E PLURIBUS UNUM

Obverse:
Washington facing left
Legend:
QUARTER DOLLAR / UNITED STATES OF AMERICA / LIBERTY / IN GOD WE TRUST


Krause catalog number - KM#355



Coin value in condition:
UNC (Uncirculated - without traces of circulation) - ~1 USD.00
XF (Extremely Fine) - 0.25-0.50
Worse than "XF" - 0.25 USD
MICHIGAN #26
Capital: Lansing.
Adhered to: January 26, 1837.
Population: 10,050,446 hab.
Origin of the name: Original word of the Chippewa tribe, "michigana" "Great Lake".
Reverse shows the outline of the State of Michigan and the set of the "Great Lakes", the legend "GREAT LAKES STATE""State of the Great Lakes" is the nickname.

Up the date of incorporation to La Unión.
KM#(D):355KM#(S):355a
As its nickname indicates, almost all of the state's history revolves around the Great Lakes.

"Superior", "Michigan", "Ferret", "Erie" and "Ontario" make up the Michigan lake system. They are five of the largest lakes in the world, together they total 38,000 square miles and form the largest body of freshwater. largest in the world, serve as the natural border between the United States and Canada.
4 of the 5 lakes border the state, a Michigander is less than 85 miles from any large lake, wherever he is in the state.
They have a signaling system of 116 headlights and indicator lights to facilitate navigation inside.

It is estimated that since the year 1800 between 6,000 and 10,000 ships have been shipwrecked or stranded in these lakes, due to the great storms that form in these latitudes, many sailors have drowned in these cold waters since the first arrivals in the 16th century. colonists.
There is a Coast Guard service in charge of coordinating and directing maritime traffic, as well as assisting ships with problems.
Currently the Great Lakes are a constant source of income for the inhabitants of the area;

fishing, hydrological resources, hydroelectric power, freight transport and of course supplying drinking water to the entire country.
Satellite image of the Great Lakes.
Satellite image of North America.
Transportation of goods in the most industrialized area of ​​the country.