Online collections
hobbycollections.info
All collections » Coins » US Quarter 2005 Kansas State
US Quarter 2005 Kansas State
Currency - Dollar=100 cents
Face value: Quarter dollar ($1/4=25 cents)
Type - commemorative coin 50 States Quarters Series

Composition - copper-nickel clad copper
Diameter - 24.3 mm
Weight - 5.67 grams
Edge: Reeded

Mint Mark: D (Denver), P (Philadelphia)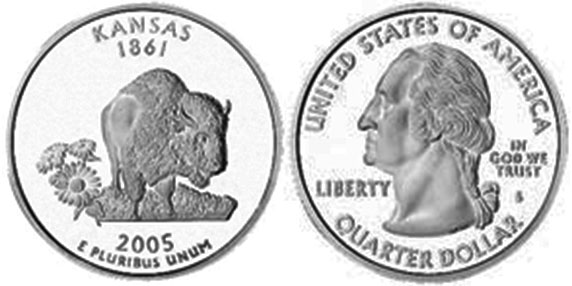 Years of mintage:
2005

Reverse:
American bison, sunflowers
Legend:
KANSAS 1861 / 2005 E PLURIBUS UNUM

Obverse:
Washington facing left
Legend:
QUARTER DOLLAR / UNITED STATES OF AMERICA / LIBERTY / IN GOD WE TRUST


Krause catalog number - KM#373



Coin value in condition:
UNC (Uncirculated - without traces of circulation) - ~1 USD.00
XF (Extremely Fine) - 0.25-0.50
Worse than "XF" - 0.25 USD
KANSAS #34
Capital: Topeka.
Adhered to: January 29, 1861.
Population: 2,744,687 inhabitants.
Origin of the name: It comes from the Indian word "Kansa" which means "South wind".
The reverse shows an image of an American bison, the official state animal, and on the left a group of sunflowers, the official state flower of Kansas.

Up date of adhesion to La Unión.
This coin does not present any particular legend.
KM#(D):373KM#(S):373a
Bison were the main source of food for the American "Indians" of the Great Plains, and were hunted by white men almost to extinction in the 19th century, with only 750 remaining around 1890. The Bronx Zoo, in the United States , maintained one of the surviving herds, from which the population was restored in Yellowstone National Park and other natural reserves.

The current population of American bison is approximately 350,000, compared to an estimated population of 60-100 million before Columbus arrived in the Americas.

Upon the arrival of the Spanish in America, such was the number of bison or cibolos that the conquistadors found in the great North American prairies, that they called the vast region "the plains of cibolo."
Today, more than 250,000 of the remaining 350,000 bison are raised for human consumption.
The sunflower is native to America, and was cultivated around 1000 BC, from there, the Spanish exported it to Europe at the beginning of the 16th century.

The growing areas of the State are full of this flower with which they obtain significant income thanks to the production of oil.
American bison.
1880, mountain of bison skulls.
The sunflower, official flower of the State.