Online collections
hobbycollections.info
All collections » Coins » US Quarter 2006 North Dakota State
US Quarter 2006 North Dakota State
Currency - Dollar=100 cents
Face value: Quarter dollar ($1/4=25 cents)
Type - commemorative coin 50 States Quarters Series

Composition - copper-nickel clad copper
Diameter - 24.3 mm
Weight - 5.67 grams
Edge: Reeded

Mint Mark: D (Denver), P (Philadelphia)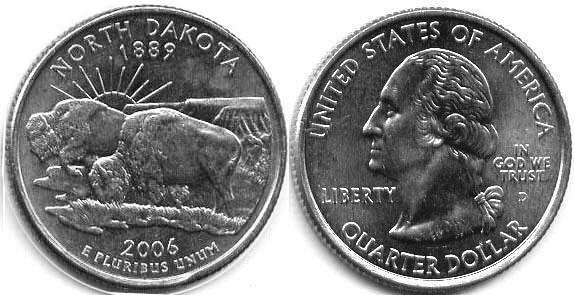 Years of mintage:
2006

Reverse:
American bison, badlands
Legend:
NORTH DAKOTA 1889 / 2006 E PLURIBUS UNUM

Obverse:
Washington facing left
Legend:
QUARTER DOLLAR / UNITED STATES OF AMERICA / LIBERTY / IN GOD WE TRUST


Krause catalog number - KM#385



Coin value in condition:
UNC (Uncirculated - without traces of circulation) - ~1 USD.00
XF (Extremely Fine) - 0.25-0.50
Worse than "XF" - 0.25 USD
NORTH DAKOTA #39
Capital: Bismark.
Adhered to: November 2, 1889.
Population: 636,677 Hab.
Origin of the name: The origin is an Indian word from the Sioux tribe that means "friend", then this territory was divided into North and South.
Reverse shows two American bison grazing, in the background a sunset, mesas and steep canyons that form the territory known as "Badland".

Up the date of incorporation to La Unión.

Does not contain legends.
KM#(D): KM#(S):
The American President Theodore Roosevelt founded the US Forest Guard service with an Act of Congress in 1906, his job was to preserve and protect places considered "Natural Treasures", such as the places known as Badland, which today They are named after Theodore Roosevelt National Park.
The Badlands are arid terrains with clay-rich soil that has been badly eroded by wind and rain over millions of years.

Ravines, valleys, riverbeds are common elements of these landscapes, with great contrasts between the bluish black of the coal on the surface and the reddish tones of the clay.
Giant herds of American bison inhabited these lands in the mid-19th century, of which some 400 wild specimens remain today, since they were on the verge of being extinguished by the hand of the white man.
Like the motif chosen by the State of Kansas, North Dakotans have wanted to pay tribute to this emblematic animal that once ruled the great plains of the State.
Roosevelt NP Wild Bison,
Territory of the "Badlands"