Online collections
hobbycollections.info
All collections » Coins » US Quarter 2006 South Dakota State
US Quarter 2006 South Dakota State
Currency - Dollar=100 cents
Face value: Quarter dollar ($1/4=25 cents)
Type - commemorative coin 50 States Quarters Series

Composition - copper-nickel clad copper
Diameter - 24.3 mm
Weight - 5.67 grams
Edge: Reeded

Mint Mark: D (Denver), P (Philadelphia)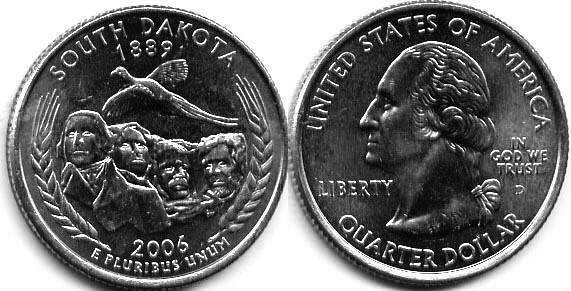 Years of mintage:
2006

Reverse:
Mount Rushmore, ring-necked pheasant, wheat
Legend:
SOUTH DAKOTA 1889 / 2006 E PLURIBUS UNUM

Obverse:
Washington facing left
Legend:
QUARTER DOLLAR / UNITED STATES OF AMERICA / LIBERTY / IN GOD WE TRUST


Krause catalog number - KM#386



Coin value in condition:
UNC (Uncirculated - without traces of circulation) - ~1 USD.00
XF (Extremely Fine) - 0.25-0.50
Worse than "XF" - 0.25 USD
SOUTH DAKOTA #40
Capital: Pierre.
Adhered to: November 2, 1889.
Population: 775,933Hab.
Origin of the name: The origin is an Indian word from the Sioux tribe that means "friend", then this territory was divided into North and South.
Reverse shows the presidential faces of Mount Rushmore, above flying a red-necked pheasant, the official state bird, and on either side ears of wheat.

Up date of adhesion to La Unión.
KM#(D): KM#(S):
Mount Rushmore, located in Keystone, South Dakota, commemorates the birth, growth, preservation, and development of the United States of America.

Mount Rushmore National Park is 5.17 km2.
Between 1927 and October 31, 1941, Gutzon Borglum and 400 workers sculpted colossal 60-foot busts of Presidents George Washington, Thomas Jefferson, Theodore Roosevelt, and Abraham Lincoln that represent the first 150 years of United States history.
Tourists go first to see the granite sculpture, but also for the interesting "Sculptor's Studio" built in 1939 under the direction of the artist, Gutzon Borglum.

The only plaster models and the tools used in the sculpture are displayed there.
Ten years of reconstruction work recently culminated in an extensive network of facilities and sidewalks.

These include a new visitor center and museum and trails that provide spectacular up-close views of the sculpture.

Maintenance of the monument is a unique challenge for conservators, sometimes requiring scaling the mountain to remove lichen and generally cleaning the sculpture.
Mount Rushmore.
Model of the presidential figures.
Red necked pheasant.
The red-necked pheasant was elected the official state bird by popular vote in 1943.
With a production of about 3.5 million acres per year, wheat is by far the main crop in South Dakota, it exported 186 million dollars worth of wheat in 2000, ranking fifth in production in the United States. .UU.
Wheat harvester.